We're so hyped to bring to you our fresh November Update Package! Check out our new pricing, FREE TRIAL and all new goods we prepared for you this month!
Hope you will be interested in new pricing and plans and that you'll fall in love with our new features and simplification options.
Also, FREE TRIAL IS HERE! Read below what we've prepared for you this time!
New pricing: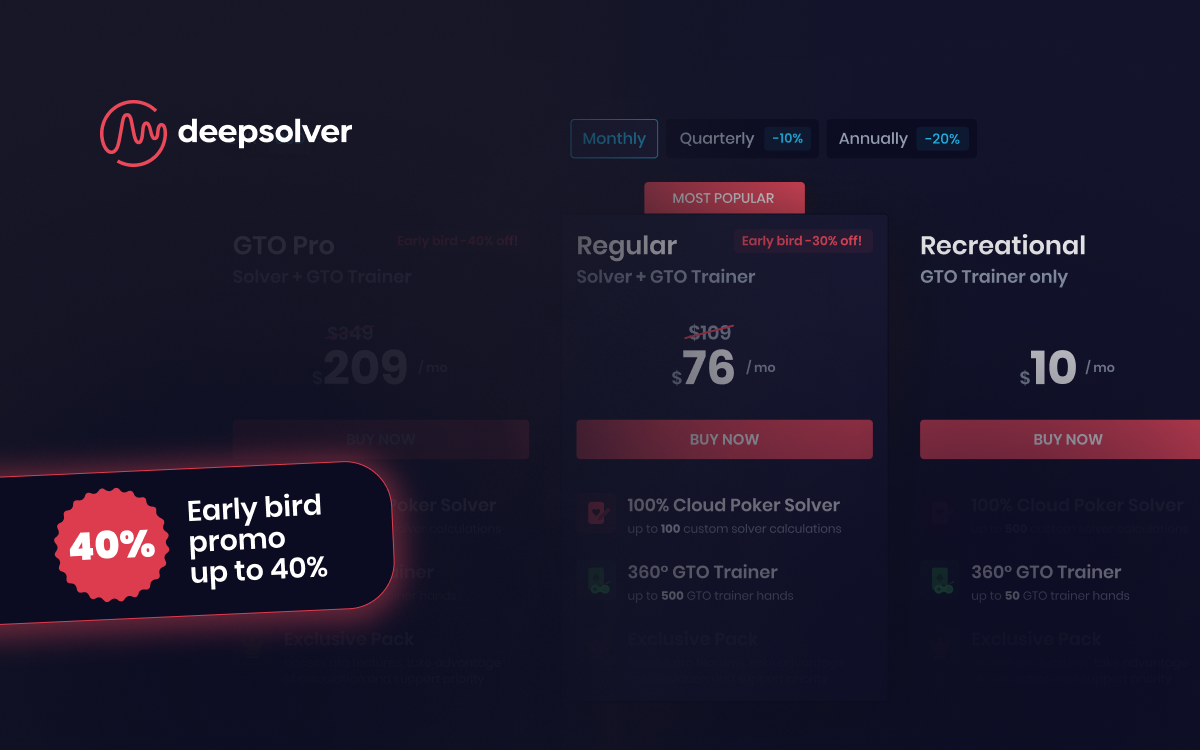 Features:
FREE 48h TRIAL - try Deepsolver for FREE. All features included, 50 coins for poker solver and GTO trainer calculations and 48h to try it all. Register for Deepsolver FREE TRIAL here
Ultimate Iterations Mode added to GTO Trainer and Play vs Solution (1k iterations now!)
Queue display in custom calculation and GTO Trainer modules (ETA)
App Changes:
Custom Solution Mode redesigned and form simplification - there is only one step now
Calculation Navigation Bar redesign
Custom Solution is now ALWAYS set for 1k engine iterations
Range Finding for Custom Solution and GTO Trainer are the same now - simple & hassle-free
Custom Solution costs 10 coins. Always. Handlocking, Turns, Rivers and Play vs Solution are now free within the calculation
Bugfixes:
GTO Trainer content scrolling bug is fixed
GTO Trainer solving stats blinking big is fixed
minor issues in switching between custom game and GTO Trainer are fixed
Hope you enjoy our November Update. If you'd like to share your ideas or feedback, please let us know and let's talk at: support@deepsolver.com.